Ask for a SMS Marketing Campaingn Offer
After receiving your request, we will send you an offer including the needed services according to the chosen package, the estimated completion time and the price.
SMS Marketing campaign research
After signing the contract, we set together the goals and the SMSs package. We are looking for new opportunities to grow your business, so we study the competition and build a sms plan according to your business goals.
SMS Marketing campaign implementation
We make the account settings, think about the concept and the SMSs content. Once the SMS plan is scheduled, a Digital Marketing Specialist will be responsible for monitoring them.
SMS Marketing campaign report
We are constantly communicating with you and sending periodic reports so you can see the results. Together we establish when we can meet to discuss what improvements can be made and how we can make the best decisions for maximum performance.



Did you know that more than 95% of the SMSs are read by their recipients? How would you use this statistic to increase your sales?
The SMS Marketing service provided by Creative Ones gives you the ability to send dozens of SMSs to a highly targeted audience. Promote your business directly to the public interested in your services, ask for acustomized SMS marketing service tailored to your business!
SMS Marketing
With an average mobile phone opening of 150 times a day and a reading of the received messages at about 3 minutes after receiving them, the approach of the target audience through SMS marketing gets an excellent efficiency.
Advantages:
dedicated consultancy to effectively set up your campaign 




smart campaign planning




targeted database setup

personalized with your business name "Sender"

 section
Choose to spend the promotion budget effectively, lower the rejection rate for your traditional promotion campaigns and quickly organize your own SMS marketing system.
About SMS Marketing
According to Wikipedia, SMS marketing campaigns are defined as the only way of promoting through a network to which the target audience is permanently connected. Since 2000, SMS marketing campaigns have gained popularity in Europe and Asia, locations where companies have been collecting databases with mobile numbers in order to promote their business. On average, an SMS is read at about 3 minutes after is received, which can bring a high number of conversions.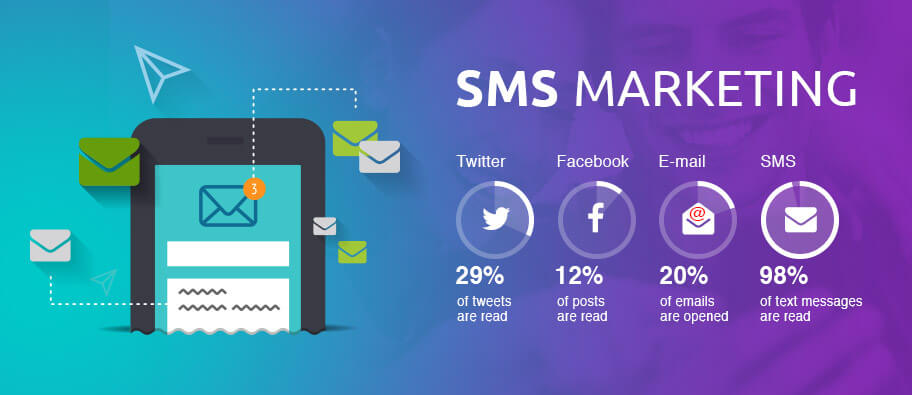 SMS marketing - Message Construction
The results-generating messages are the simplest, the shortest and on  point messages.  It is highly recommended to make two short, persuasive sentences to answer the following questions: Who? What? Where? How? When? Why?. Straighten the whole attention to an immediate action, providing a quick contact. As a plus, it is recommended to use communicated in advance offers with a preset time limit. 
Choosing you target audience for SMS marketing
Setting up an SMS campaign for a database that is irrelevant to your business can generate negative feedback and budget loss. Target audience segmentation and customization can be the gold rule for guaranteed success in SMS marketing.
We provide you with effective tools and dedicated consultancy for SMS marketing campaigns with a high conversion rate. Ask for a personalized price offer and take advantage of the most effective mobile marketing campaign! Send an offer request, call us +40 740 065 563 or write to us at [email protected].





Bootstrap


HTML


CSS


JavaScript


JQuery


Php


MySQL


Wordpress


Opencart


Laravel


Android Apps


React


IOS Apps


Xcode


Kotlin


Photoshop


Ilustrator


Dreamweaver


After Effects


Lightroom


Premiere Pro


Acrobat Pro


Indesign


3DS Max


Sistemul electronic de achizitii publice
Why should you choose Creative Ones?
Hundreds of successful projects for international clients, public institutions, start-ups
Senior programmers with experience in PHP, Java, Android, iOS, HTML, CSS, JavaScript
Marketing specialists with Google Adwords certifications
Designer graduates of the Arts Faculty with experience in Photoshop and Illustrator
Google MBA Program 2015
EMEA Mobile Ads 2017