Contact us for details
Do you want to use the latest marketing tools to increase the performance of your business? Contact us to offer you the right solution!
Create an account in the Creare Multi QR code platform
We offer you our QR Code creation solutions as a creative tool to increase traffic and be in contact with your audience. No papers, no brochures, no business cards, flyers or other waste. We are Eco, through such solutions.
A complete solution, QR Code and RFID Card and through NFC
Directing the information contained in the RFID Card and Qr Code for presentation, sale, etc. on the optimized landing page hosted on Creative Ones servers.
Choose the QR Code solution
Include QR Code and RFID Cards read quickly via NFC in your digital marketing strategy and differentiate yourself from your competitors. In addition, we ensure a more ECO environment for us. Find out how.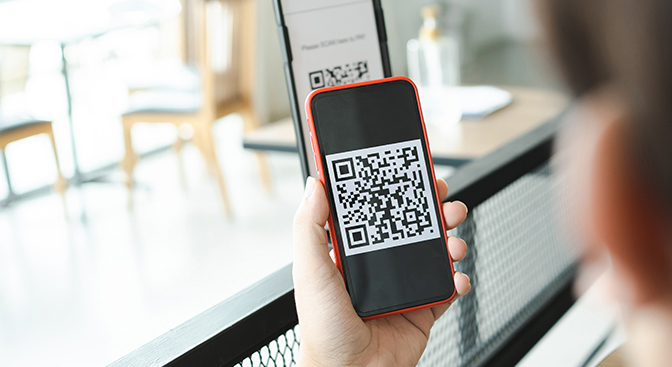 QR Codes are today more popular than ever.
For businesses, they have become a tool for promotion, presentation, attractive and useful.
Fast, powerful and with a capacity to process and store a large volume of characters, QR technology is a marketing tool that you should take full advantage of.
What is a QR code and how does it work?
The QR code is a two-dimensional version of the barcode capable of transmitting a wide variety of information, almost instantly, by scanning with a mobile device. With the QR code, access to information is ultra fast.
New smartphone models have a QR code reader integrated into the phone's camera, but if the phone does not have a QR code reader, there are a multitude of QR code reading applications in the application stores easy to download and use.
QR codes can be static or dynamic with applicability in the most diverse forms and domains.
Static QR code
The static QR code contains information that is fixed and uneditable once the code has been generated.
They are ideal for generating business card-type information, company presentations, etc.
Dynamic QR code
Dynamic QR codes allow updating, editing of information.
It helps especially for marketing and sales objectives, they save the costs of printing brochures, leaflets, offering by accessing them information about the company or various promotion campaigns.
The QR code has evolved a lot in recent years and has increasingly simplified access to information, being a perfect platform, friendly to mobile devices.
Being a bridge between online and offline, the QR code helps you connect with the public by providing more information about what your company represents, information about the products and the services you offer.
With a landing page as the destination page dedicated to the information transmitted via QR code, adapted for mobile devices, for example, you no longer have to log in to website to provide information to the public. In addition, it can store an entire gallery of images, video, audio, PDF etc.
Improve the experience of your customers with the help of the QR code!
Simpler and faster.
With a single QR code scan using a camera app, smartphone users get quick access to URLs, brochures, mobile apps and related information.
The QR code has applicability in the most diverse fields:
promoting social networks
online shopping
collecting feedback
location of shops, offices
orientation towards social networks
purchases of products with certain characteristics or within campaigns
application downloads
generating leads
orientation towards landing pages
the possibility to instantly order certain products, etc.
QR codes can be placed anywhere, on:
web pages
posters
business cards
leaflets, brochures, flyers
billboards
showcases, windows
restaurant menu
screens, displays
packing etc.
An example to better familiarize yourself with the benefits offered by QR Code:
Do you own a restaurant? Imagine how easy, simple, economical, modern and even hygienic it is to offer your customers the possibility to download the menu directly through through the QR Code. No "tired" and worn menus on the table, touched by everyone... no expenses for prints and above all, with the possibility to update when you need the information.
Direct advantages:
You build customer loyalty by offering them quick access to useful information and promotions
Increase traffic on your online store
Increase the number of leads
Increase the purchase rate of your products
Simplify various processes and ways to get in touch with customers
Increase the notoriety of your brand
Here is another creative example of using the QR Code:
sursa: Youtube, Commercial Break channel
Now use QR Code as a digital marketing strategy to develop your business!


Bootstrap


HTML


CSS


JavaScript


JQuery


Php


MySQL


Wordpress


Opencart


Laravel


Android Apps


React


IOS Apps


Xcode


Kotlin


Photoshop


Ilustrator


Dreamweaver


After Effects


Lightroom


Premiere Pro


Acrobat Pro


Indesign


3DS Max


Sistemul electronic de achizitii publice
Why should you choose Creative Ones?
Hundreds of successful projects for international clients, public institutions, start-ups
Senior programmers with experience in PHP, Java, Android, iOS, HTML, CSS, JavaScript
Marketing specialists with Google Adwords certifications
Designer graduates of the Arts Faculty with experience in Photoshop and Illustrator
Google MBA Program 2015
EMEA Mobile Ads 2017