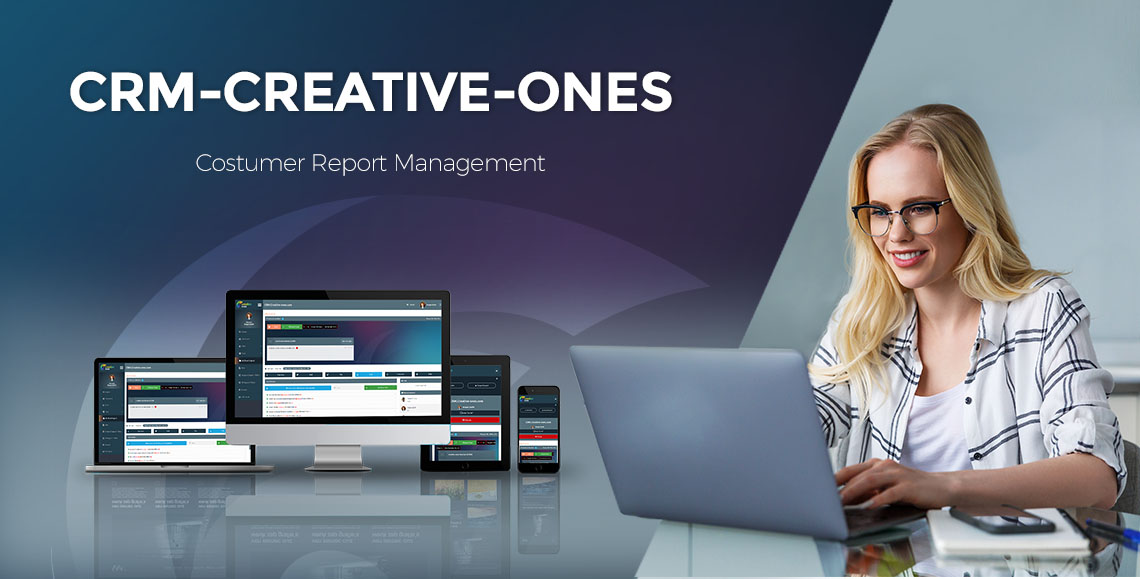 Creative CRM (Customer Relationship Management) is one of Creative Ones software applications that manages your company's work and what each employee works for his clients. Thanks to this application, you gain full control over your business and get a new perspective and working approach.

This application fits into any type of business, with virtually no standard business domain.
There is no possibility that the information disappears or is unprotected because everything is stored in the context, the information being available anytime and anywhere on any device.
Working mode is intuitive and simple with two interfaces. The first interface is the Admin (manager interface), and the second is the user interface.
The application allows real-time viewing of what the entire team is working on. It can be seen how long they started to work, what breaks they had, how much the pauses totalized, and when they came, when they left work. Also, you can see in real time what each member of the team is working on and still worked on that day.
The Creative CRM application can be used to manage employee activity within the company, but also to report, receive vouchers from customers, or manage their projects and tasks.
Creating a new user is made from the Team - Staff menu, and this section shows how many users are currently up to date. Adding the user is done by email and password and after selecting the role. Creative CRM can also be used by lawyers, notaries, or other companies that provide services, especially hourly but not only. There is a possibility to set the new user with more information such as LinkedIn profile, Facebook, date of birth etc.
For the new user to work on a project, the admin must provide access, only it can create projects and allocate users from the Client Project - Project List menu.
When the employee reaches the office, he visits All Client Project to see all the projects he has assigned. Once he clicks on the project that he intends to handle, the timer begins to record the time worked on this project, while it is generally recorded and translates into time allocated for analyzing or creating tasks.
When a new task has been created, those who are involved are automatically notified by e-mail, including the Customer if applicable.
The application has various TABs in which certain information can be mentioned: Files - with all the files uploaded to the project, if any; Tasks Note - where we can note various issues that will be visible to other colleagues; Wall - where it is possible to post a message to be viewed by other colleagues.
Like a review, users log on to Creative CRM every day, and check the projects they're working on and their tasks. Meanwhile, the Admin can see in real time what each user is working on and how long. As they end their work schedule at the end of each day, or end each day, they will stop their time and close their project windows.
The manager's interface will start to stop showing users, and they will end their activity. As a color code, Red is the active project in which it is working, and the bold black text is the task currently being worked on.
In order to see history reporting, the Report - Report Staff menu will be able to select the period (yesterday, this week, last week, last month, etc) and report with all those who worked during that period.
We could also have financial information to guide our efficiency. Creative CRM developed by Creative Ones, not an accounting software but a management software, such financial information is indicative.
In conclusion, this application provides automation, prioritization and a very good control of your activities and you can test it right now
.


Bootstrap


HTML


CSS


JavaScript


JQuery


Php


MySQL


Wordpress


Opencart


Laravel


Android Apps


React


IOS Apps


Xcode


Kotlin


Photoshop


Ilustrator


Dreamweaver


After Effects


Lightroom


Premiere Pro


Acrobat Pro


Indesign


3DS Max


Sistemul electronic de achizitii publice
What are you looking for?
We are here for you