Log in to Creative SMS
On your mobile phone, log in to Android Creative SMS application with the user and password used to open the account on the platform. Now you can send SMS directly from your computer (instant sms menu), your phone and web platform are connected via the Creative SMS application.
Connect your Online Store
However, the application is developed to link your online store through the API. So, access API settings from the platform and connect your online store with your own programming team or ask for our services to implement them!



Android App Module for SMS Marketing
Automatically or manually notify your customers about their order status
SMS Marketing App especially designed for online stores
Save time and increase your brand awareness
Send free SMS from your personal phone or the company's phone
Send free SMS to your customers
Especially designed for professional online stores
The Android SMS App for the online stores developed by Creative Ones works in the following manner:
Install the Adroid SMS App on the mobile which sends SMS
Before installing, the Android App is configured with the name of your website and other parameters required for its functionality, both in the web and mobile area.
In the admin area of your online store, there will be developed an additional field through which you cand send SMS messages using various topics, which remain saved for the next orders.
The SMS Marketing App can be also purchased from Google Play, but its linked setup and installation to your online store  is made exclusively by our team for FREE (or including in payment option), configuring the parameters for each domain and website.
How would it be to be able to send free SMS to your customers?
How would it help you confirm the pickup and delivery orders on your online store?
Request a custom offer for your Opencart online store or for any other opensource or custom-made platform.
Below you can see the image of an Opencart online store developed by Creative Ones, which has the sms transmission function implemented through the Android app installed on the contact mobile for the website.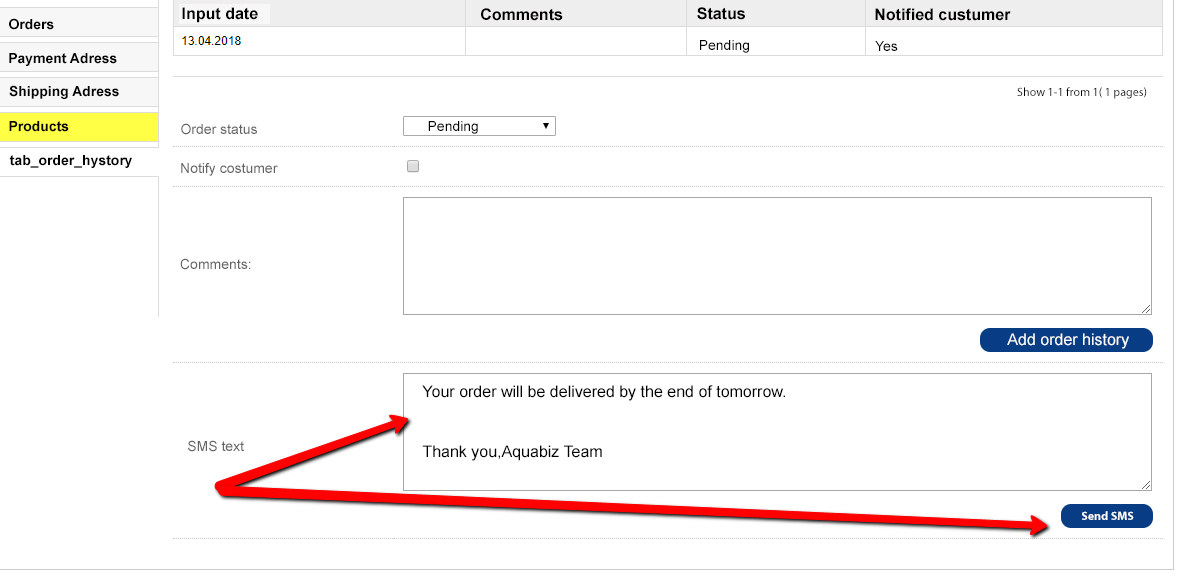 Also we could use this app for other e-shop platforms like Prestashop, Magento, Wordpress, etc. but also for custom web application developed by us or other companies.
So, you could be informed by SMS from your phone or your company phone about whatever a web site or an application could do (you set it).
If you have an online shop you as owner could be informed by SMS about:
new recived orders
new e-mail in imbox
low stok of a product
etc. we cuould develop other custom things
But, the main advantages are:

your clients will be informed by SMS about their orders, directly from your phone number, so they could reply
they could confirm, so we could automate the order process (this involve custom develop of your e-shop platform)
you could inform your clients about new products, new promotion, etc. directly from your phone managed by your e-shop platform or our Creative SMS platform (automated or manualy)

Conversion is better
If you have a CRM, ERP, or other custom software custom developed for your business, you could be informed by SMS about:
new task asigned for you or your team.
tasks update.
other notification, you decide
So, it is an app you instaled on your phone (that will send SMS) and this app will be linked to your e-shop admin or your software


Bootstrap


HTML


CSS


JavaScript


JQuery


Php


MySQL


Wordpress


Opencart


Laravel


Android Apps


React


IOS Apps


Xcode


Kotlin


Photoshop


Ilustrator


Dreamweaver


After Effects


Lightroom


Premiere Pro


Acrobat Pro


Indesign


3DS Max


Sistemul electronic de achizitii publice
Why should you choose Creative Ones?
Hundreds of successful projects for international clients, public institutions, start-ups
Senior programmers with experience in PHP, Java, Android, iOS, HTML, CSS, JavaScript
Marketing specialists with Google Adwords certifications
Designer graduates of the Arts Faculty with experience in Photoshop and Illustrator
Google MBA Program 2015
EMEA Mobile Ads 2017