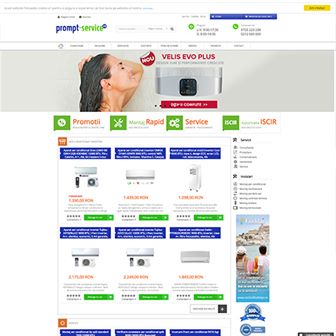 Thermal plant? Air conditioning? We have a website about all of this:
www.prompt-service.ro
Prompt Service is a company specializing in the supply of air conditioning, ventilation, heating, sanitary and electrical products and services. The company, which is on the Romanian market for 23 years, benefits from a series of certifications in the management of quality, health and safety and operational security and information security.
The
prompt-service.ro
site is an
online store
with a wide range of air conditioning, heating and ventilation products and services.
The site's homepage benefits from a banner that runs the store's promotions, new products, or products to be promoted within a certain amount of time.
Promotions are also highlighted in a dedicated menu (Promotions).
Each page of the site maintains a search engine for the desired product with the advanced search option according to the marketed brands. In this way, the customer gets quickly to the product he is interested in.
Each product is described in detail and benefits from additional options: assembly, purchase in installments, setting the price alert so as to facilitate the purchasing decision based on complete information.
Due to the specificity of the products, a customer information area was created, created through the Customer Services menu. From here, customers can get information about how to properly and easily dispose of electrical and electronic waste, download the income certificate if they want to buy the products on the site, get full contact details, return of products.
Customers can create an account on the prompt-service.com site so that they can place orders more easily and faster to keep up-to-date on the order status and access the history of their orders.
Information about the products sold, details about their use and installation can also be found on the blog.


Bootstrap


HTML


CSS


JavaScript


JQuery


Php


MySQL


Wordpress


Opencart


Laravel


Android Apps


React


IOS Apps


Xcode


Kotlin


Photoshop


Ilustrator


Dreamweaver


After Effects


Lightroom


Premiere Pro


Acrobat Pro


Indesign


3DS Max


Sistemul electronic de achizitii publice
What are you looking for?
We are here for you