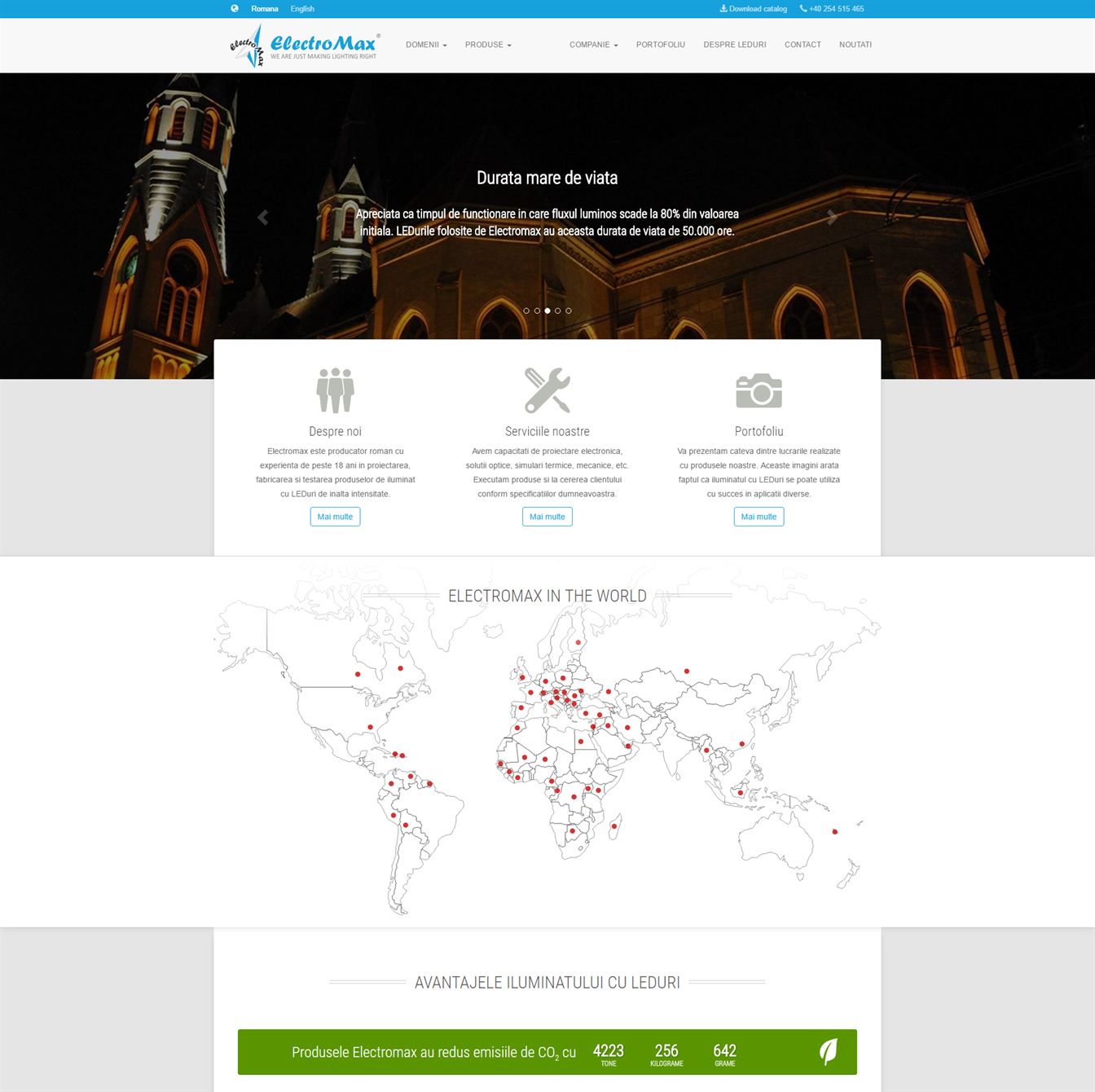 ELECTROMAX light up all over the world!



Electromax is one of the leading manufacturers of high-intensity LED lighting systems and has an 18 year experience in the field.
Using the latest technology for designing, manufacturing and testing products and systems, Electromax has an extensive range of street, ambient and architectural lighting products. Electromax uses high-tech LEDs (certified by OSRAM), high quality materials (polycarbonate, stainless steel, anodized aluminum, etc.), all of which offer its products a special appearance and durability even under particular operating conditions (swimming pools, wells etc).
Electromax products are present all over the world.
Being an international company, it was supposed to benefit from a website, in two versions (Romanian and English), with a modern design and complete information about its products.
The Creative Ones team has created the website electromax.ro to highlight the company as a reference manufacturer in its field of activity as well as the products sold.
Electromax.ro is a presentation site that puts the focus on the benefits of Electromax products through a carousel banner. Considering the specificity of the products and their addressability, electromax.ro is a site that contains many illustrative pictures and downloadable materials, which at the same time has an optimal loading time for each page.
The product side and domain addressability is the most informative part of the site and has been attributed to the two menus: Products and Domains. The two menus thus provide complete, technical information about any Electromax product.
And because LED lighting is not an area of ​​knowledge for everyone, a dedicated menu presents the benefits of this type of illumination.
The News Area shows the latest company information.
So if you want energy saving, low maintenance, rich color, quality and more, visit the site electromax.ro!


Bootstrap


HTML


CSS


JavaScript


JQuery


Php


MySQL


Wordpress


Opencart


Laravel


Android Apps


React


IOS Apps


Xcode


Kotlin


Photoshop


Ilustrator


Dreamweaver


After Effects


Lightroom


Premiere Pro


Acrobat Pro


Indesign


3DS Max


Sistemul electronic de achizitii publice
What are you looking for?
We are here for you