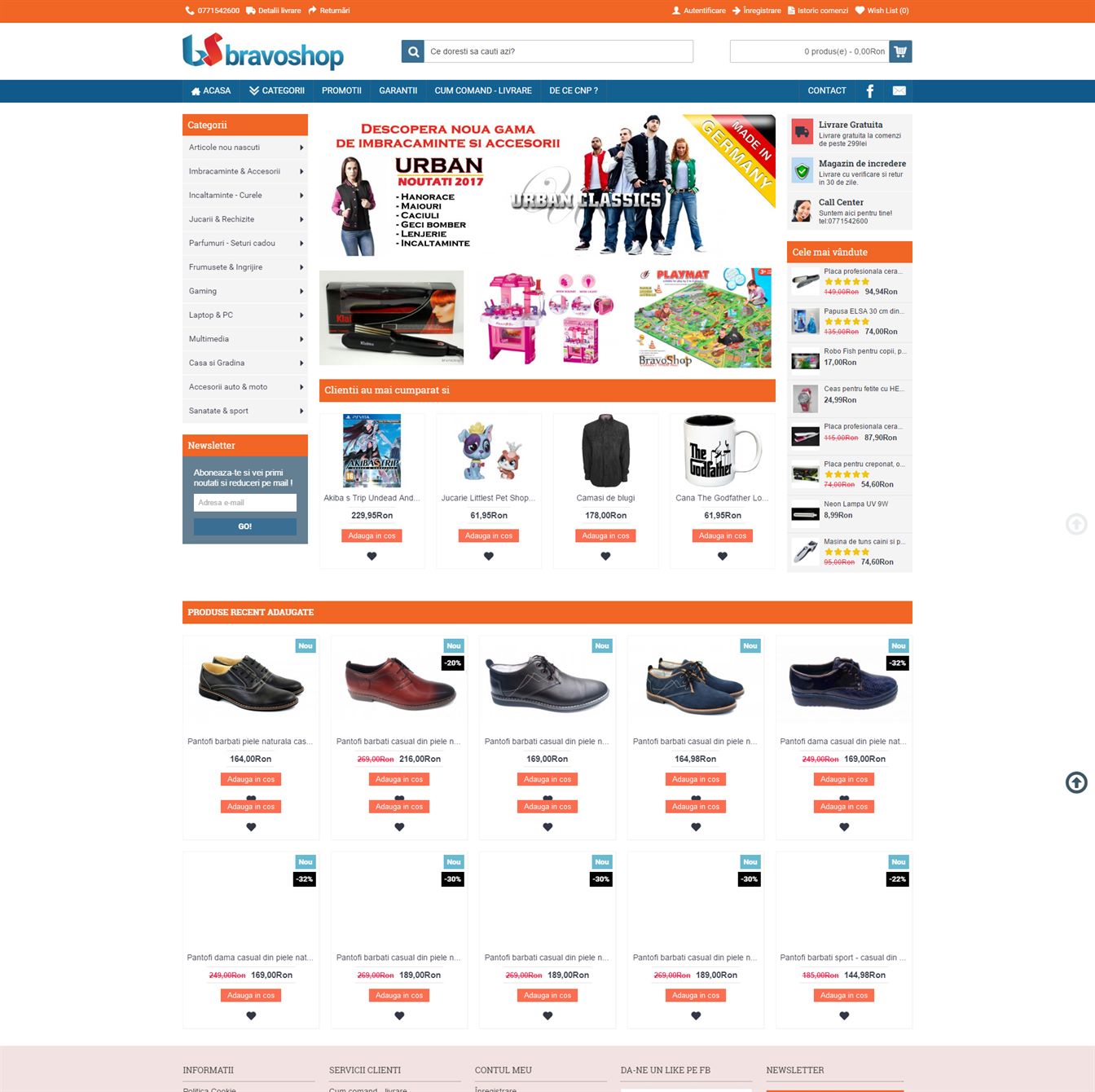 Shopping for "bravo". At bravoshop.ro
How simple it is today! From a few clicks you get the desired products at home.
Bravoshop.ro, a site created by the Creative Ones team, offers you convenient, fast and secure access to the most diverse products.
Like a true mall, the online store Bravo Shop contains a full range of products that are divided into 12 main categories. These, in turn, are segmented into other sub-categories.
You almost can not find what you want.
From infant, clothing or beauty articles, to car, garden or medical articles - everything is at your service.
And if you find yourself making too much effort to search among the product categories, you have the search button on the homepage.
And because it's about a large volume of products, the site benefits from implementing an automatic stock update tool.
Is the price an important factor for you when you make a purchase? On bravoshop.ro you can select exactly the minimum and maximum range of the amount you are willing to spend in a certain category of products that interest you. The site will refine your search by displaying only products that match this criterion.
The menu of promotions available on the site loyalty to customers and Newsletter subscription facilitates information on store news and discounts.
Are you an indecisive buyer? Do you influence the purchases of others? You can see on the site which are the best selling products.
Are you a loyal buyer and interested in the news of the store? Or do you just want to know that you are in a store that refreshes its inventory permanently? Bravoshop.ro displays the latest products added to the site.
And if you want to be informed about the product you want, you can read about it, on site, all the information you need: about product quality, technical details, producer, the opinions of those who have purchased the product, etc.
Everything is transparent and accessible.
The acquisition experience on bravoshop.ro is improved by registering users on the site. By creating an account, they can make purchases faster, keep up with order status, and keep records of orders made. In addition, a points system rewards them, and a wish list will record their favorite products they want to buy at a time.
Although it is an online store with a variety of products, the design of the site has been designed as intuitive and airy as to increase visitors' retention and conversion rate into customers.
Good luck with shopping!


Bootstrap


HTML


CSS


JavaScript


JQuery


Php


MySQL


Wordpress


Opencart


Laravel


Android Apps


React


IOS Apps


Xcode


Kotlin


Photoshop


Ilustrator


Dreamweaver


After Effects


Lightroom


Premiere Pro


Acrobat Pro


Indesign


3DS Max


Sistemul electronic de achizitii publice
What are you looking for?
We are here for you