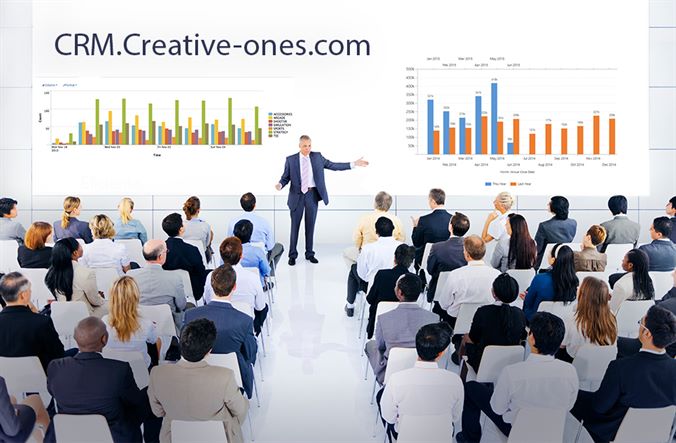 How many times have you faced with your business with the following: Low efficiency on some projects or some employees; Dead "dead" and hard to control; Failure to track in real time the running of a project and implicitly of all the tasks assigned to the employees; Customers who "migrate" to competition? There are aspects that many companies invoke. The good news is that there are solutions for any management problem, from cost savings and very rigorous control to each project, to increasing efficiency in dealing with each customer. There are solutions that greatly save work time for projects, time spent on management or administrative issues, solutions that evaluate employee efficiency and generate useful reports and analysis. It's about
CRM - Customer Relationship Management.
When a company chooses to deploy a CRM, it means that it wants to make a change in how it deals with customer relationships. A change that would bring efficiency gains and be reflected in company figures. Satisfied and loyal customers, well-organized teams, and properly assigned and executed tasks lead to increased sales and can all be managed with a CRM. Here's a list of benefits that a CRM seals: - Keeping and loyalty to existing customers by responding quickly to their requests; - increasing the number of clients through the possibility to implement marketing campaigns; - increasing the conversion rate of potential clients through the possibility to follow the sales process; - optimizing the project development by step-by-step monitoring of workflows; - eliminating repetitive or unnecessary use of time - streamlining communication between employees and departments by unifying all customer information in one space; - encouraging teamwork; - Reduction of work time allocated to activities tangential to the project (for example, invoicing). In other words, CRM becomes an integrator that "unifies" all of the company's interactions with customers and potential customers, all the information that underlies a project and all the workloads, maximizing all this data capital. The natural result is the loyalty of existing clients and the attraction of new clients. It's time to implement a CRM that generates added value for your business. We are at your disposal with.
details of the Creative Ones CRM solution
.


Bootstrap


HTML


CSS


JavaScript


JQuery


Php


MySQL


Wordpress


Opencart


Laravel


Android Apps


React


IOS Apps


Xcode


Kotlin


Photoshop


Ilustrator


Dreamweaver


After Effects


Lightroom


Premiere Pro


Acrobat Pro


Indesign


3DS Max


Sistemul electronic de achizitii publice
What are you looking for?
We are here for you