There are countless possibilities in today's marketing, and finding the right way to promote your online store can sometimes be overwhelming. So why not start with a simpler option?
Numerous studies have shown that SMS marketing is one of the best ways to reach your target audience. Why? Because about 90% of SMS messages are opened by users and read within the first 3-4 minutes of receiving them, thus providing you with an almost instantaneous way to reach your customers.
Although overshadowed by email campaigns in recent years, text messages are a plus in addition to the fact that they are completely open to mobile phone users, as opposed to emails, which are often deleted directly. unread. Recent studies show that on average a user checks his mobile phone about 150 times a day. What does this thing mean? That you might lose 150 chances a day because you don't use SMS marketing for your online store.
If you want to be able to approach the customer relationship on a personal level, reduce the costs of promotion and increase the return on your investment, you should start using SMS marketing, either as a stand-alone promotion method or in line with other channels online promotion.
Because we like to be with you, not only during the development of your online store, but also after its completion, when the real challenge is just beginning, we developed the online application Creative SMS.
What is Creative SMS and how can it be used?
Creative SMS is an online application with which you can send free SMS to customers of your online store. Basically, we can integrate for you a module specially designed for Opencart or any other opersource platform, which you can use to notify customers in your database via SMS.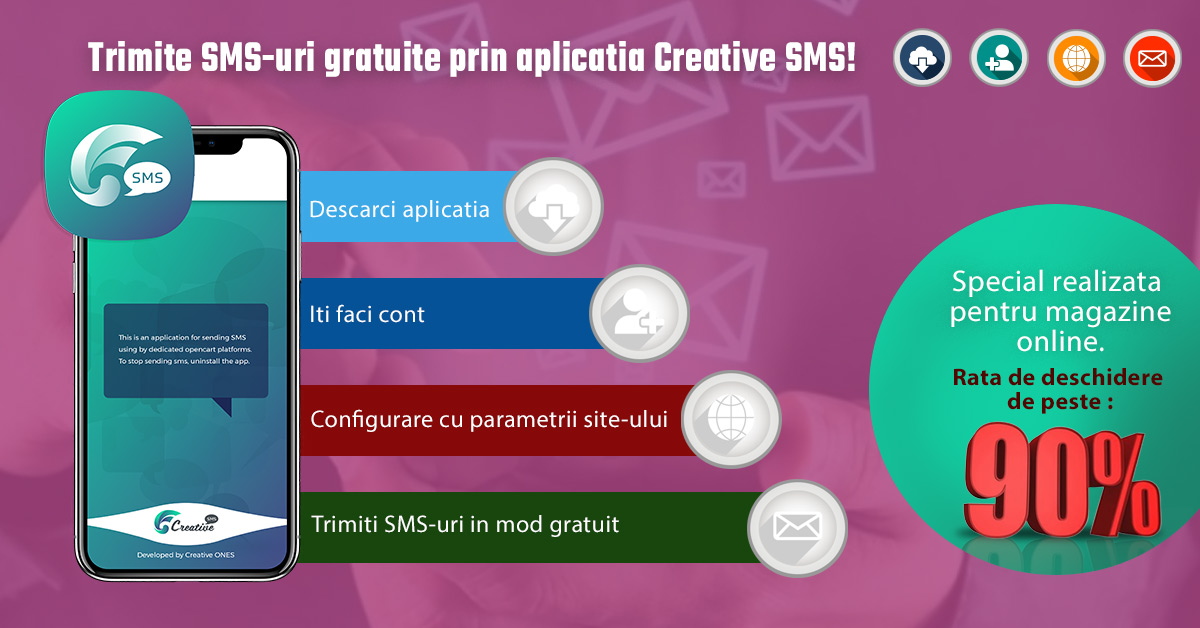 How does Creative SMS work?
In order to use the Creative SMS service you need to register on this link. After registration you will receive an email at the address used to create the account. You need to activate your account in order to access the Creative SMS options later. Once your account is confirmed, you need to install the Creative SMS application from Google Play on the phone on which you intend to send the SMS, in which you will log in with the same data previously used to create the account.
Very important, in the mobile application you have to activate the SMS sending mode (initially set to off, for security) when you want to start sending SMS.
In the control panel of the application you can schedule SMS to be sent at the desired time and day, just by loading a table with the necessary data. The model of this table can be found in the Schedule SMS area of ​​the application dashboard, from where it can be easily downloaded. In order to see if the SMS have been delivered, you can track their status in the SMS Reports section of the control panel.
Test Creative SMS
In order to test Creative SMS and better understand how it works, you have 10 test SMS that you can use as you wish.
The first step is to log in to your account from the web application and select Instant SMS in the menu. Here you will fill in a message and a phone number to which you want to send a test message. In order for the sms to be sent, the phone on which you have installed the Creative SMS application needs to be connected to the internet and to have credit or sms available.
Integrate Creative SMS into the platform of your online store
Before the Android application can be installed, it must be configured with the name of your site and other parameters necessary for its operation both in the web area and in the mobile area.
In the admin area of ​​the online store, a field table will be further developed, where it will be possible to send SMS with various topics that remain saved and as a draft.
Although the application can be downloaded from Google Play, its setting and installation, linked to your online store, is done exclusively by our team by configuring the parameters related to each domain and website.
How can you use SMS for your online store?
Notify customers about order status. A simple notification of confirmation, shipping or delivery of the order will drastically reduce the number of calls generally received from impatient customers, while improving the relationship with them.
Follow and convince undecided customers. Probably for every online store owner one of the most disappointing things is when the customer puts various items in the shopping cart, just to leave the site without placing an order. However, a friendly and well thought out SMS could cause him to complete the order. How many potential customers have you lost so far just because you didn't consider this option?
Inform customers about offers, discounts and send promotional codes. Here is a simple and effective way to send information about the discount codes offered, exclusive prices or discounts for a limited period of time. Consider personalizing sent messages to increase response rate and brand awareness.
Announces the launch of a new product. How to successfully promote the launch of a new product rather than communicating with the public who have already shown interest in other products of your online store? SMS allows you to easily communicate with people in your database, easily informing them about new products or services.
Announces customers about the return of beloved products to stock. We have all experienced at least once the disappointment of not being able to buy a product due to exhausted stock. Take advantage of the possibility of sending an SMS and notify your customers about the return to stock of a product they wanted.
Are you ready to start your own SMS Marketing campaign? We are here to help you. Contact us for more details about Creative SMS.


Bootstrap


HTML


CSS


JavaScript


JQuery


Php


MySQL


Wordpress


Opencart


Laravel


Android Apps


React


IOS Apps


Xcode


Kotlin


Photoshop


Ilustrator


Dreamweaver


After Effects


Lightroom


Premiere Pro


Acrobat Pro


Indesign


3DS Max


Sistemul electronic de achizitii publice
What are you looking for?
We are here for you