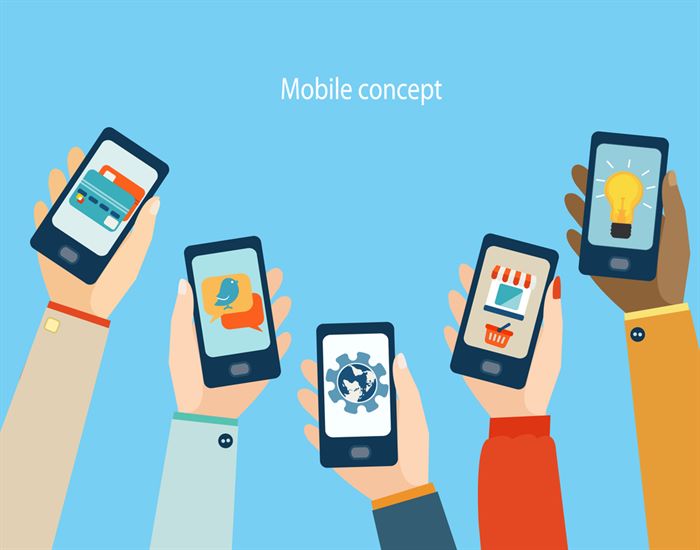 The reason why smartphones are so popular today is without a doubt the existence of applications. Applications are basically the main elements that make mobile phones "smart" in terms of functionality and features. The mobile applications market is in the middle of a positive revolution, their number increasing daily.
Mobile application development also brings benefits to online businesses, which now reach mobile phone users more easily. Billions of people around the world today use smart mobile devices, and one surefire way to reach them is to create custom mobile applications for their own business.
If you are thinking of developing your own mobile application, whether we are talking about creating Android or iOS applications, and you need a direction that indicates your consumer preferences, here are the top most used applications in the world right now.
WhatsApp
Surely you have heard of it and more than likely you use it too. Yes, WhatsApp is one of the most popular chat applications, which also allows communication between international telephone networks.
WhatsApp ranks first in this top, with downloads between 1-5 billion.
Facebook
Of course, Facebook could not rank lower in this top. Facebook is currently the most popular site and application among social networks around the world. The Facebook application is available for Android, iOS and all other major mobile platforms. Facebook is used almost everywhere in the world for socializing, but also at the business level, for paid ads.
Not far from WhatsApp, Facebook ranks second in this top, with downloads between 1-5 billion.
Facebook Messenger
It is very unlikely that for every Facebook application downloaded, Facebook Messenger will not be automatically downloaded. This is basically the chat application available for Facebook. At first, there was no separate messaging app for the famous Facebook, but today there is more Facebook Messenger has become as popular as Facebook soon after its launch.
Downloads between 1-5 billion.
Instagram
Cu un avant impresionant in ultima perioada, Instagram a reusit sa cucereasca deja miliarde de oameni. Instagram este o aplicatie de partajare a imaginilor in principal si de socializare, devenind populara datorita calitatii inalte si a caracteristicilor unice ale fotografiilor, cum ar fi numeroasele filtre. Desi atat de populara, pentru Instagram a fost dezvoltata o versiune web, dar care nu ofera aceeasi functionalitate precum varianta aplicatiei mobile, fiind cel mai probabil utilizata doar de cativa oameni. Varianta mobila insa, a ajuns undeva intre 1-5 miliarde descarcari.
Snapchat
O aplicatie de mesagerie si o retea de socializare, Snapchat poate fi utilizata doar ca aplicatie mobila. Da, nici pentru Snapchat nu exista o versiune web. Aplicatia permite utilizatorilor sa trimita mesaje, fotografii sau scurte videoclipuri altor utilizatori Snapchat. Este foarte celebra si pentru filtrele care pot fi aplicate prin recunoasterea fetei din care o parte sunt mereu schimbate cu altele noi.
Descarcari intre 500 milioane – 1 miliard.
YouTube
An application that works on both mobile and desktop devices, YouTube allows you to view and share many videos. YouTube also has some additional features, such as the ability to download offline.
Moreover, YouTube is the host of most videos around the world, and also offers the ability to generate revenue for those who upload videos to the app.
Downloads between 1-5 billion.
Google Maps
The most used application for location and GPS. Google Maps is a complete location application with features such as GPS tracking, address sharing, navigation, real-time traffic update, location search, and more.
Downloads between 1-5 billion.
Google Search
Google is the largest search engine in the world and today it is offered through a dedicated mobile application, with which users can quickly search for images, news or anything else. Google Now is an advanced version of this mobile application.
Downloads between 1-5 billion.
Gmail
An email messaging application, Gmail was originally developed for the web, but today has a special version for mobile, available for Andoid, iOS and other platforms. Gmail is the most widely used email application in the world
Downloads between 1-5 billion.
Uber
As the story of this application says, Uber started from a relatively simple idea, that of ordering a car (transport) via a mobile phone. Today, Uber manages to make transportation safer. Based on location, this is the most used application that allows users to "hire" drivers and even share trips with other users going in similar directions, being a convenient, easy and efficient way to transport in or near the city. Because it's a location-based app, Uber works great on any GPS-enabled mobile device.
Downloads between 100-500 million.


Bootstrap


HTML


CSS


JavaScript


JQuery


Php


MySQL


Wordpress


Opencart


Laravel


Android Apps


React


IOS Apps


Xcode


Kotlin


Photoshop


Ilustrator


Dreamweaver


After Effects


Lightroom


Premiere Pro


Acrobat Pro


Indesign


3DS Max


Sistemul electronic de achizitii publice
What are you looking for?
We are here for you