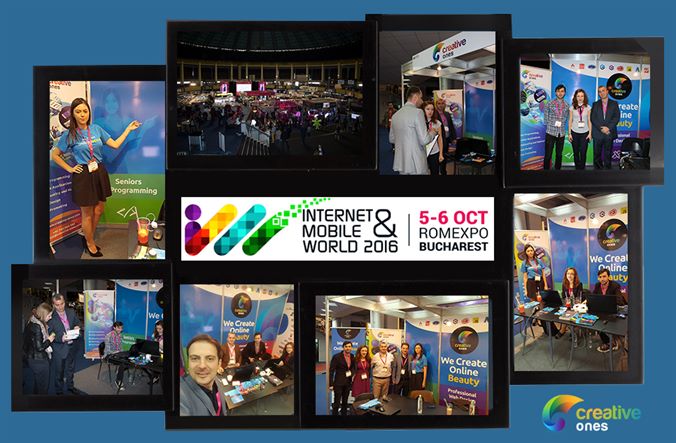 Creative Ones has just successfully completed its third Internet & Mobile World event, which took place at Romexpo from October 5th to 6th. For two days we have been exhibitors in the largest technology hub, presenting digital solutions through which we can develop our business. IMW was about infrastructure, security, risk management, CRM, ERP, SaaS, enterprise applications and software, cloud devices, IoT (Internet of Things), digital marketing, e-commerce and business- online. 5 Stages - Stage Stage, Digital Stage Stage, Stage Developers and Innovation Stage Marketing - dedicated to IT, Java, Java Script, Digital Marketing and E-commerce specialists, over 130 international and Romanian speakers . At Creative Ones, visitors were able to learn from our colleagues about programming and web design, as well as about Creative Ones CRMs. There have been two days of intensive networking in which we have created the premises for new partnerships. We thank the organizers for the irreproachable organization of the event!


Bootstrap


HTML


CSS


JavaScript


JQuery


Php


MySQL


Wordpress


Opencart


Laravel


Android Apps


React


IOS Apps


Xcode


Kotlin


Photoshop


Ilustrator


Dreamweaver


After Effects


Lightroom


Premiere Pro


Acrobat Pro


Indesign


3DS Max


Sistemul electronic de achizitii publice
What are you looking for?
We are here for you