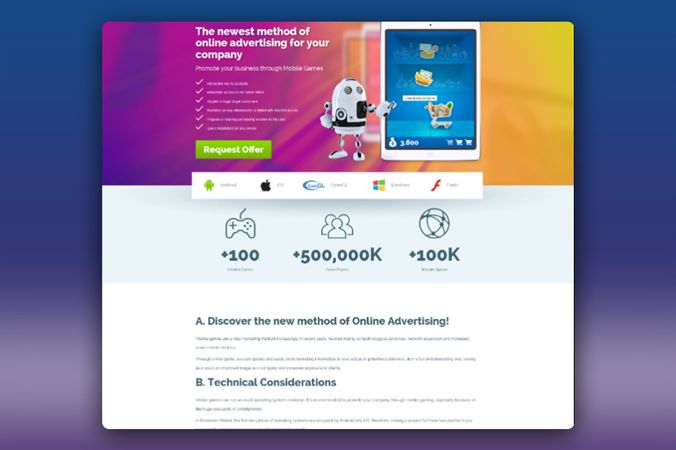 A common mistake made by some companies when sending newsletters with links included or promoted through online ads is to send the potential client automatically to their site instead of giving them a landing page as a landing page.
What is a landing page?
This is where you have the chance to win your clients through a targeted message to a targeted audience. Landing page is basically a web page that should respect the visual identity of your brand, but which is separate from the site. On this page you have to always look at things from the client's perspective: what are their needs, problems and how to solve them. Landing page has a pragmatic purpose, it's always conversion-oriented. It is said that in online 5 seconds at your disposal to create a good impression. The more we must keep this in mind when setting a landing page in terms of design and content. For a successful landing page, it's good to keep in mind:
A convincing title

Strong emphasis on benefits

Call to action strategically placed
Clear, concise messages, perceived as valuable
Easy to navigate, well organized, airy
Content to be focused on one action or offer
Testimonials, Social Evidence
Highlighting by bold and bullets to highlight what is most important
Illustrative image
The order form / enrollment form is not loaded with unnecessary information, but only requires what is strictly useful to be able to contact the client
Do not include links to other pages that might hijack the client on your landing page.
Now ask for a
Professional Landing Page!


Bootstrap


HTML


CSS


JavaScript


JQuery


Php


MySQL


Wordpress


Opencart


Laravel


Android Apps


React


IOS Apps


Xcode


Kotlin


Photoshop


Ilustrator


Dreamweaver


After Effects


Lightroom


Premiere Pro


Acrobat Pro


Indesign


3DS Max


Sistemul electronic de achizitii publice
What are you looking for?
We are here for you