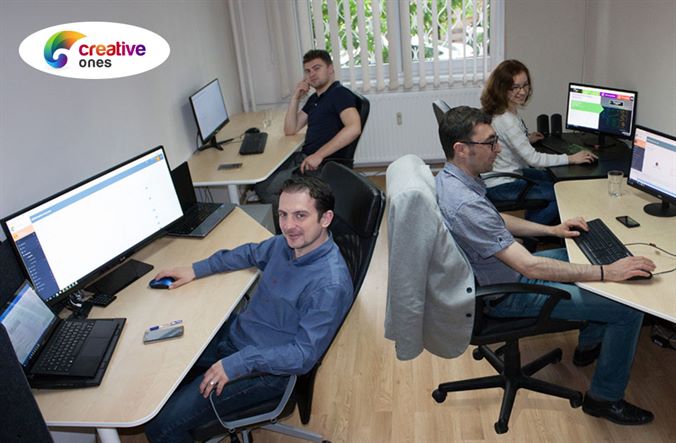 For online success, choose a senior team

in web design and programming!

You know it's a saying, "If you do not have the old to buy!". The same is true when you want to have a strong online presence for your business. You "buy" seniors. From Creative-Ones.com You benefit from the services of designers and professional developers. The good part is that we are not just a web design team, like many others, but also a team of programmers. This provides the convenience that your online is on good hands for a long time now. If we were to make a checklist of our team's preparation, that is, a long job sheet, we would check the following:
We make complex web sites and applications using HTML5, CSS3, PHP, MySQL,
We are experts on frameworks such as Laravel and Codeigniter;
We optimize web sites in terms of SEO
We program, perfect aspects and functionality for new or existing sites and applications;
We create new modules for web applications and mobile applications;
We implement strategies to promote branding and products online; link building;
We develop and implement SEO onpage strategies;
Creating and implementing Google Adwords campaigns
We create optimized content and optimize existing content; keyword research involving copyright specialists;
Creating and implementing graphical concepts, including banners, business card concepts, brochures and everything related to the visual presentation of the business.
Investing in technology, investing in licenses, investing in the continuous training of our employees. We are growing talents, we are proud of performing people and with an exceptional background. We have been in a successful formula for many years. We invite you to meet us! We are waiting for you in a friendly atmosphere to discuss how we ensure your success online!


Bootstrap


HTML


CSS


JavaScript


JQuery


Php


MySQL


Wordpress


Opencart


Laravel


Android Apps


React


IOS Apps


Xcode


Kotlin


Photoshop


Ilustrator


Dreamweaver


After Effects


Lightroom


Premiere Pro


Acrobat Pro


Indesign


3DS Max


Sistemul electronic de achizitii publice
What are you looking for?
We are here for you