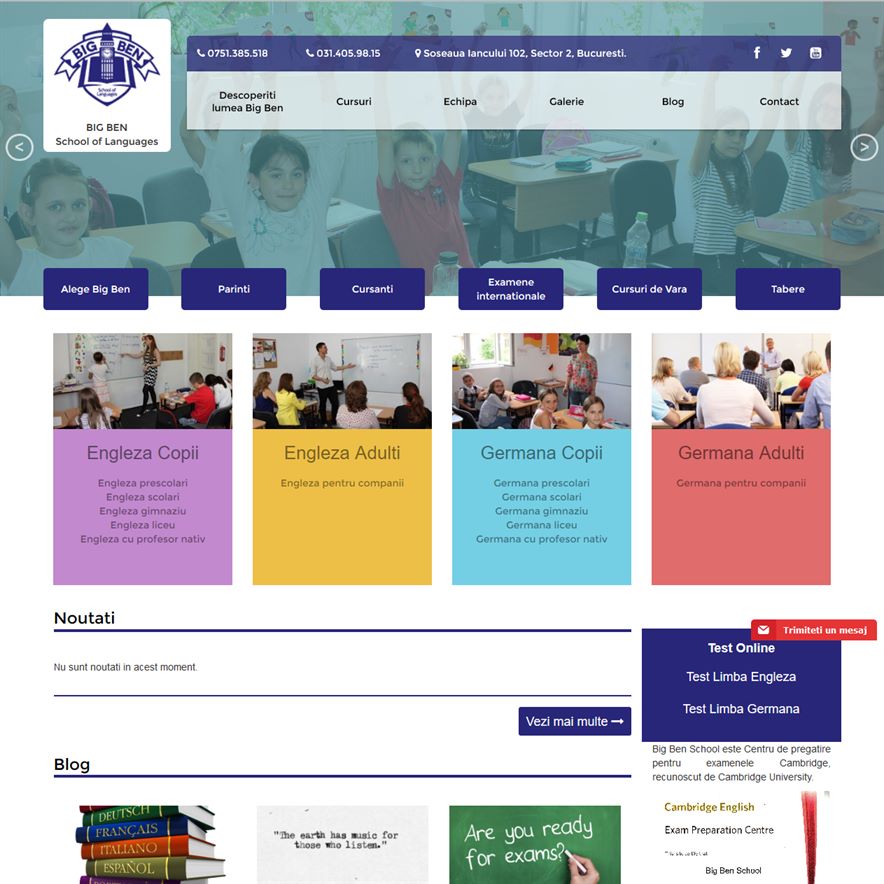 We all want a friendly learning system for our children to give them the opportunity to learn with pleasure, to be appreciated and encouraged to grow.
The Big Ben School of Languages ​​are doing a great job and we have met them closely working together on a big online project.

But first, a few things about Big Ben School of Languages:
Big Ben School of Languages ​​was founded in 2009 as a foreign language center for children and since 2010 its foreign language courses are also addressed to adults.

The Big Ben School of Languages ​​is one of the most prestigious foreign language centers in Bucharest and is an authorized examination center for the Cambridge and Trinity exams.
The teaching style of the Big Ben School of Languages ​​is unique and makes the progress of the students amazing and fast, in relaxing, pleasant and fun conditions.

It is important that at the end of each lesson the pupil learns not only new knowledge but is encouraged to believe in his success, thus developing new abilities.
And as such a wonderful school of pleasure you had to communicate as effectively and in real time as students, parents at Big Ben School of Languages ​​chose Creative Ones to set up an online management system customer relationship, meaning a CRM. And not only, a school catalog that can also be accessed online by parents.
We will tell you the following.
From this point of view, the Big Ben School of Languages ​​is an example of any educational institution that respects and which, above all, respects its clients. Practically, the learning style promoted by the Big Ben School of Languages ​​is very well supported by the way the relationship with students, parents, teachers, the way they communicate, and the well-founded feedback is generated.

The school's catalog is online - it's easy to access wherever you are, connected to the internet, it's friendly and easy to use. The notes are displayed in real time, as well as the absences.

Each student has his own profile, a folder, in fact, which stores all the information and history of his relationship with school as a student.

Basically, the parent has a complete picture and can easily manage what is happening, what his / her child learns and how it progresses.
These are personal information, but also topics to be solved, qualifiers, periodic reports that record progress made during learning, messages that the teacher transmits, useful observations and recommendations, acquired competencies, special attendances (international exams, camps, free lessons etc. .), certificates.

CRM developed by Creative Ones took into account all customer information needs and maintaining contact with school.

Parents can receive email notifications when the teacher loads new documents or changes occur.
Similarly, children can receive themes by email or they can be notified when they need to check their accounts to access new themes.
For a well-controlled activity, teachers have each space devoted to CRM, a space containing personal information, timetables, halls for each class in which they teach, eventual absences.

In this space, teachers can generate reports on students' progress and diplomas.
Also, CRM records teacher involvement in projects, blog activity, punctuality of data entry.

As we are already accustomed to customers who own a Creative Ones CRM, the time tracking component is very important. CRM developed for Big Ben School also monitors the time spent or changes made by each teacher.

No issues have been omitted, such as creating photo albums with graduates, emails sent automatically with birthday wishes, etc.

All of this with the aim of creating a community around the school of happy parents and students who make noticeable progress in a friendly environment.

Now that you know so many things about Big Ben School and the special attention they give to customers, you will definitely make it easier for them to use their services.



Bootstrap


HTML


CSS


JavaScript


JQuery


Php


MySQL


Wordpress


Opencart


Laravel


Android Apps


React


IOS Apps


Xcode


Kotlin


Photoshop


Ilustrator


Dreamweaver


After Effects


Lightroom


Premiere Pro


Acrobat Pro


Indesign


3DS Max


Sistemul electronic de achizitii publice
What are you looking for?
We are here for you